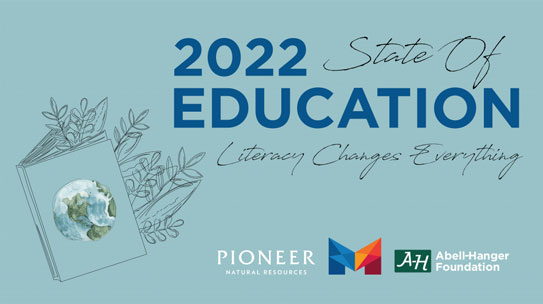 When:
Wednesday, November 16, 2022
11:00 AM - 1:00 PM
Where:
Bush Convention Center
105 N. Main Street,
Midland, TX 79701
Panelists:
John Trischitti, Ill
Executive Director
Literacy Coalition of the Permian Basin
Mark Palmer
Abell-Hanger Foundation, CEO
Literacy Coalition of the Permian Basin, Board Chair
Adrian Carrasco
Premier Energy Services, Owner
Literacy Coalition of the Permian Basin, Director
MaryAnn Beninati
Head of Human Resources, Lower 48
ConocoPhillips
Moderator:
Kate Williamson
Development Manager
Young Womens leadership Academy
More information at www.midlandtxchamber.com/stateofeducation.
By Mark Palmer CEO, Abell-Hanger Foundation On November 16th, the Midland Chamber of Commerce will hold its annual State of Education lunch. The topic is literacy in the Permian Basin. Please come and learn about the issue and what you can do in your sphere of influence to improve our condition. The Literacy Coalition…
Read More...
August 30, 2022
PERMIAN BASIN LITERACY SUMMIT 2022
HOBBS, NEW MEXICO
The Literacy Coalition of the Permian Basin (LCPB) in partnership with the Abell-Hanger Foundation, FMH Foundation, Prentice Farrar & Alline Ford Brown Foundation, Permian Strategic Partnership would like to invite you to join the Permian Basin Literacy Summit.
This free, invitation-only event will be held on August 30, 2022 from 10:30AM to 1 :30PM at New Mexico Junior College HTO 125A Training Room in Hobbs, New Mexico:
• An interactive working session to explore the findings from LCPB's
comprehensive needs assessment of adult literacy in the Permian Basin including
featured speakers Sen. Gay Kernan and Dr. Ray Perryman.
• A discussion about how we can collaborate to improve our region's family and
adult literacy system in the years to come.
• A lunch provided to all attendees.
Thanks for all you do and we look forward to seeing you on August 30th.